I have the perfect snack to serve when you are tangling with friends.
I usually make more than one batch and keep it in bags for when the tangling mood comes upon me. I love serving it during my Zentangle® classes ~ It just disappears.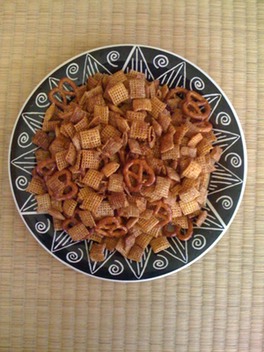 In a small bowl stir together:
3 tablespoons canola oil
1/4 cup honey
1 teaspoon cinnamon 
In a large microwave-safe bowl mix
2 cups Corn Chex cereal
2 cups Rice Chex cereal
1 cup tiny pretzels
Top with the honey mixture and stir until well combined. 
Microwave on high for 4-5 minutes, stirring well after every minute.
Cool before serving.