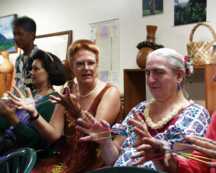 We love to share the art of Zentangle and String Figures. Our specialty is in creating art as a moving meditation. Sessions are held in our home studio in Volcano, Hawai'i. For more information call 808-967-7133 or email: stokes@lava.net
A great way to spend 11/11/11
• Friday, November 11, 2011 (Veteran's Day) 10:00AM - 12:00PM
Zentangle is an easy to learn method of creating beautiful images from repetitive patterns. It is a fascinating new art form that is fun and relaxing. It increases focus and creativity. The 2 hour class is taught by Lois and Earl Stokes who have taught Hawaiian String Figures (Hei) for over 11 years. Open to ages 10-100. $40 includes supplies. Call VAC Niaulani to register, 967-8222.
• We will be demonstrating Hawaiian String Figures and Zentangle at the Cooper Center during the Volcano Art Studio Tour on November 25 and 26th.
• On December 17th we will be participating in the Cultural Demonstrations sharing the art of Hawaiian String Figures held in Volcano National Park.