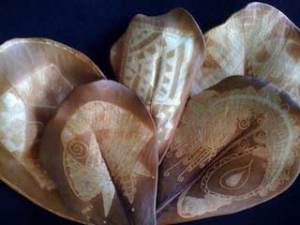 I scratch my Zentangle® with bamboo needles on the leaves of an autograph tree that grows in Hawaii. The leaves are thick and juicy and the lines turn to gold when first drawn. The process of watching a green leaf turn brown takes about a week and is a meditation in itself. If left in water they remain green longer and if left on the tree you can watch your art grow.
I embrace this expression of art that reflects Sabi or the beauty and serenity that comes with age and the process of change.
These Zentangle patterns on leaves become my spirit friends who hold my prayerful intent.