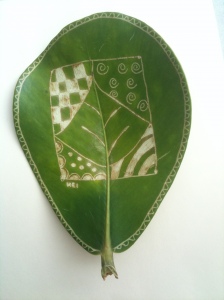 The one thing we can count on in life is change
Today a change was made that will have an impact on the rest of my life. The story started the day I stumbled upon Zentangle.com a website created by Rick Roberts and Maria Thomas. I was searching for all things involving string. To know me you will understand that I am all tied up in cat's cradle, labyrinths, knotted cords, the making of leis. I am a storyteller and artist of the spirit whose medium is string.
It was natural for me to be curious about an art form that first involved making a string. I became enchanted with Zentangle. My husband who supports all of my musings bought me a Zentangle® Kit for Christmas. Little did we know how this was going to affect our lives.
I couldn't stop making Zentangles and soon began combining this art with our healing work. Our spiritual and healing focus is expressed through HUNArt… the combination of art and the philosophy found on the islands called Huna.
I immersed myself in all things related to Zentangle®. Can't tell you how many hours I searched the web. Going to sleep at night with tangled images floating through my closed eyes. My husband and I agreed to sign up for the May Zentangle® workshop given by Rick and Maria. We haven't been off island in over 10 years and were excited by this new adventure.
As the time for the workshop came closer we were stressed by the thought that flying to Massachusetts from Hawaii would take us over 35 hours. We felt that this would be too difficult a journey for our senior bodies. My husband and I reluctantly decided to cancel our registration for the class so that someone else could take our place. I began the process of releasing something that I had so dearly wanted.
Today Earl called Rick and made our cancellation. Then it happened. Earl hung up the phone and tears began to well up in his eyes. Earl who has not even made one Zentangle® to date was in anguish about not being able to attend.
We sat down and talked about this curious experience. I had to make sure that Earl was not feeling bad about disappointing me. Earl has his story to tell but the short of it was that his sadness came from something deeper. He felt a connection with kindred spirits and was so connected to what Rick had explained about the specialness of visiting their home and standing in the place where Zentangle® was created. (We had expressed to Rick that taking the class through the internet was a good idea or better yet we offered our beloved Hawaii as a good setting for a class).
Earl was moved by something we have yet to understand. We did an inner journey and decided to call Rick up and cancel our cancellation. When you make a change in just one thing, many changes appear. Sounds like Zentangling to me. The journey is unfolding as we speak. We are looking forward to meeting everyone attending the class and feel now, more than ever, that something very special is happening. The adventure continues…