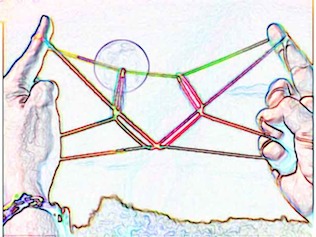 There are no limits
to our connections
tugging strings
in this web of life
Help us to kiss a wish of peace and harmony
Each rainbow string is a gift of aloha, Help to
"Spread a little aloha around the world"
Whispers of Aloha Project: To value our cultural differences and embrace the Spirit of Aloha that unites us. 
Click here for a tour
We thank our sponsors who have enabled us to give away over thirty four  thousand Rainbow Strings to the people of Hawai'i and around the world.
How can you help?

• There is something that you can do to Restore Harmony. Spread the Spirit of Aloha by giving away rainbows. Each rainbow string is a gift of love, a symbolic lei of aloha from the islands of Hawai'i. As children of the rainbow, we have the power to influence the wellness of our planet and to help make this world a better place. 

• You can join us in building the rainbow bridge that connects the people of this planet through the Spirit of Aloha. The making of string figure patterns "honors the diversity of our cultures and celebrates our unity."  You can purchase rainbow strings to give as gifts to your family, friends or community.